Ayubowan !
Kotte Kingdom
King Parakramabahu VI - From 1412 AD to 1468 AD
The last native sovereign to unify Sri Lanka.
King "Parakramabahu VI", known as the son of King Vijayabahu VI was crowned in 1412 AD at Raigama. He moved to Kotte in 1415 AD.
He took the control of "Dahaata Vanniya" and sent his brother to "Sathara Korale" as a sub king. He ordered the prince "Sapumal" to go and get Jaffna. He succeeded by killing "Araya Chakrawarthi" and taking Jaffna into control. Prince "Ambulugala" was sent to get up country from count "Jothiya" who ruled the up country at that time.
This period is considered as a politically stable time period. Therefore there was an uprising of literature and religious sides. "Thotagamuwe Sri Rahula" and "Vidagama maithri" are well known honorable monks who wrote many literature books like "Selalihini Sandeshaya".
After king Parakramabahu VI's death, his grandson king "Jayabahu II"(1468 AD - 1472 AD) owns the throne. Prince Sapumal grabbed the throne by killing king "Jayabahu II" under the name king "Buwanekabahu VI"(1472 AD - 1480 AD). The next king was his son king "Parakramabahu VII"(1480 AD - 1484 AD).
King Veera Parakramabahu - From 1484 AD to 1508 AD
Prince Ambulugala, under the name king "Veera Parakramabahu (VIII)" owns the throne by killing king Parakramabahu VII. He had five sons from two queens namely Buwanekabahu, Sri Rajasinghe, Vijayabahu from the chief queen and Sakakalavalla and Taniyavalla from the second queen. Buwanakabahu, the eldest owns the throne after king Veera Parakramabahu, under the name "Dharma Parakramabahu - IX"(1508 AD - 1510 AD).
Arrival of Portuguese
The arrival of Portuguese merchants happened in 1505 AD and they were able to convince king Veera Parakramabahu to let them built a castle in Colombo and to continue their merchants. This is a huge turning point of Sri Lanka's history though the king couldn't realize it at that time.
King Vijayabahu VII - From 1510 AD to 1521 AD
King Dharma Parakramabahu's brother Vijayabahu VII ascended the throne as Rajasinghe had died. At the same time his half brother "Sakakalavalla" was the sub king at Udagampola. King Vijayabahu VII and his brother Rajasinghe had three sons namely Raigam Bandara, Buwanekabahu and Mayadunne as a result of cohabitation with "Keerawelle biso". After Keerawelle biso's death king Vijayabahu married another queen called "Biso Bandara". She also had a son named "Deva Rajasinghe". After Sakakalavalla's death, Biso bandara wanted her son to be the sub king at Udugampola though he was still 7 years old.
Because of this unfair sub king enthroning, the other four sons of king Vijayabahu VII flee away to Negambo and from there, the youngest Mayadunne went to up country and he got the minister Jayaweera's help to kill his father. This incident is known as "Vijayaba kollaya". After that the kingdom was broken into three parts. The eldest "Buwanekabahu VII"(1521 AD - 1551 AD) was the next king of kotte. Raigam Bandara ruled the Raigama and Mayadunne owned Sitawaka area.
According to these divisions, the unity of Sinhalese were being weakened and king Buwanekabahu VII also felt uneasy about his power as his brother Mayadunne was more powerful and he was kind of a threat to him. Therefore he began to seek the protection of Portuguese and gradually became like a puppet of them. He is considered as the greatest king traitor of the country.
King Buwanekabahu VII had a daughter called "Samudra Devi" and her husband was "Vidiya Bandara". They had a son (prince "Dharmapala"). King Buwanekabahu made a gold statue of his grand son (Dharmapala) and sent it to Portugal for crowning as he was much dependent on Portuguese. After king Buwanekabahu VII, prince Dharmapala owned the throne by the name king "Dharmapala" (1551 AD - 1597 AD)
Following pictures shows some remaining ruins of the rampart which was around the city as seen by today.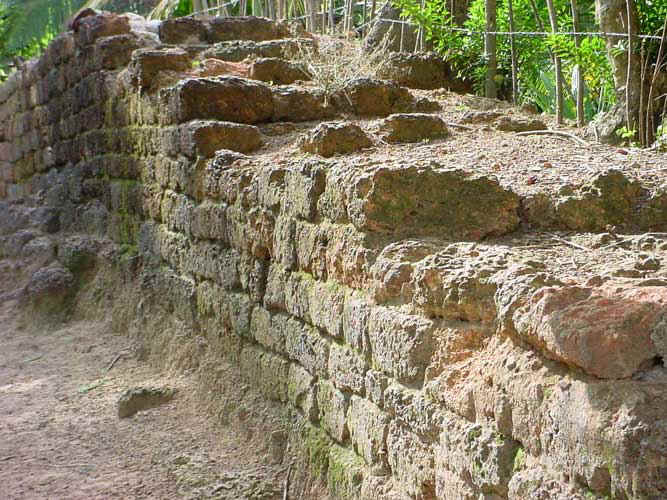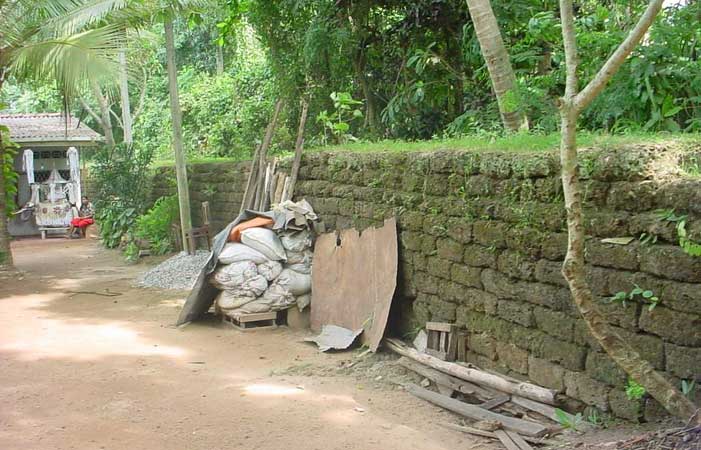 Here is a scene of outer moat of the city and a tunnel in the city.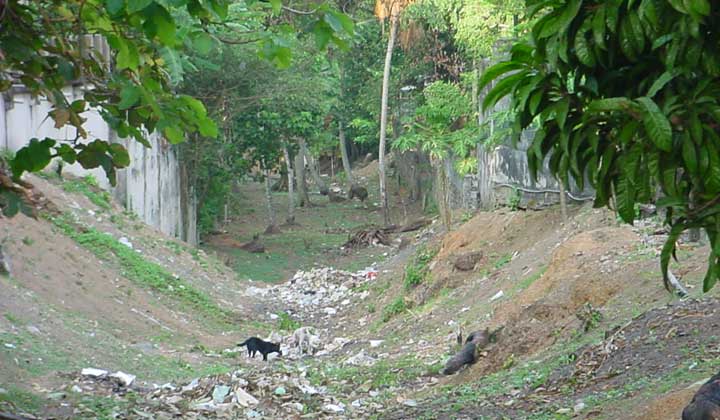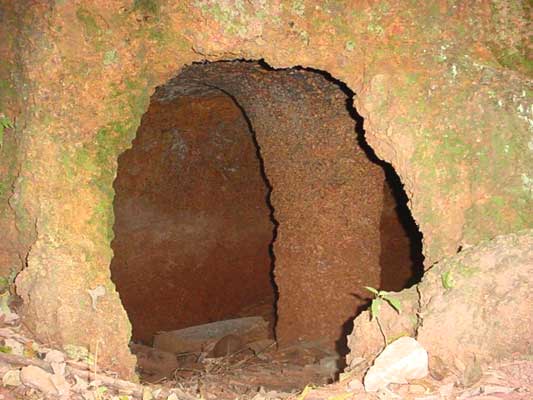 Followings show the tomb of minister Alakeshwara and "Veherakanda stupa"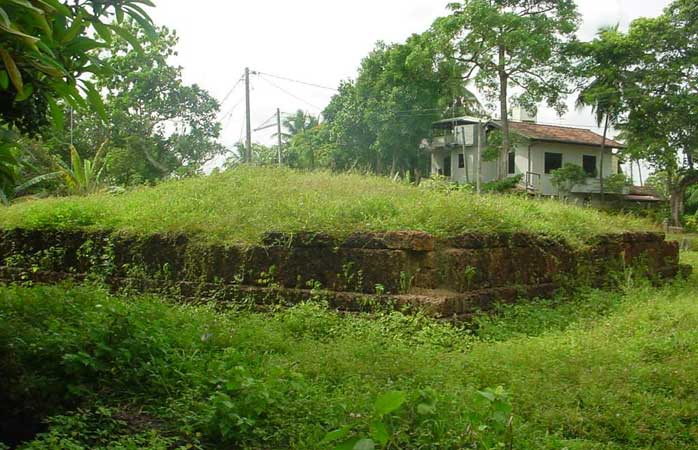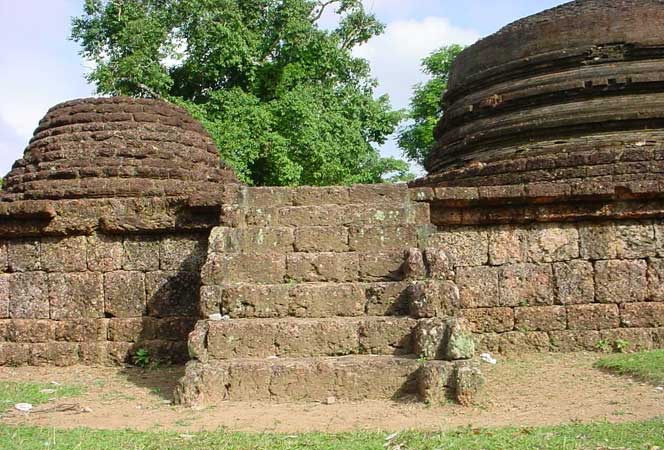 Following picture shows "Gal ambalama" which was used by the pedestrians to have a rest. It is still used for this purpose.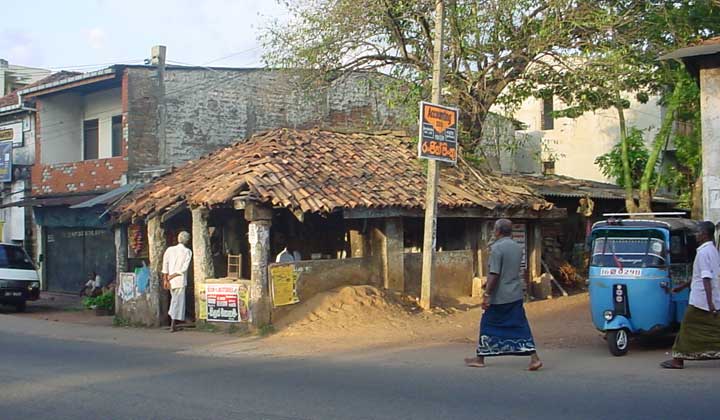 The next kingdom is
Sitawaka kingdom.


Back to Sri Lanka